Welcome
Crusaders of the Lost Idols is a 2D top down game created in July 2015 by Codename Entertainment. It is an incremental role-playing game where the player controls various NPCs, known as Crusaders to defeat incoming monsters. The game utilizes idle tactics as well as active game play to earn gold (the game's main currency) to purchase Crusader levels and upgrades. There are also various equipable items that players can unlock via chests that are awarded after boss battles. Like most incremental games, there is a pseudo "prestige" implemented in the game in the form of a World Reset that unlocks "Idols" which increase Crusader damage as well as gold accumulation.
This wiki is very much a work in progress, as is the game. If you're playing, this is where you can add the stuff that the player who created it hasn't gotten to yet!
You can play Crusaders of the Lost Idols at Kongregate, Armor Games, or Steam.
For the official forum, visit http://forum.codenameentertainment.com/
The Idol Times
Signing up for The Idol Times will give your Crusaders a great piece of equipment to help you on your crusade, as well as give you insider information on what's up and coming in the world of Crusaders of the Lost Idols. Don't forget, there will be plenty of more free goodies on their way as well! Click the image above to read more, and get started!
Campaigns
Find out about Campaigns to learn more, or view the full Campaign List.
Latest News and Updates
Thursday 9 January 2020
Version: v0.226
Princess' Pool Party, Tier 5
Features:
Updated Princess' Pool Party for Tier 5
New Crusader: Jiaolong the Guardian (slot 33)
5 New Objectives:

Recruit Jiaolong the Guardian: Reach area 400 with a gregarious guardian.
Mayday: Reach area 450 before the plane crashes.
Euchred!: Reach area 475 with the power of four.
Party Time: Reach area 500 with only the most dedicated partygoers.
Serene Waterfall: Reach area 1200 in quiet contemplation.

New Skin: Miniature skin for Shenna the Centaur
Changes:
The mythical metal, mythril, is now spelled consistently.
Added a level to the Bonus Training talent.
Fixes:
Fixed some animated effects not animating.
Monday 13 January 2020
Version: v0.226.1
Pool Party Patch-Up
Fixes:
Fixed objective names not centering properly in the objective selection screen.
When receiving multiple of the same Crusader loot from chests, the summary will no longer show a total, as though the items stacked.
Fixed Jiaolong's Eternal Waterfall bonus not applying properly to River Guardian.
Fixed the Serene Waterfall objective's escort ability not being included in your total spawn speed.
Tuesday 14 January 2020
Version: v0.226.2
More Minor Modifications
Changes:
Sashimi's More Treats ability is now a separate bonus that stacks multiplicatively with Treats.
Sashimi's Stand now buffs both Treats and More Treats.
Sashimi's Treats ability is no longer affected by propagation-type abilities.
Fixes:
Jiaolong's River Guardian ability now applies to Sashimi's Treats.
Fixed bench slots being offset to the left.
Thursday 23 January 2020
Version: v0.227
Carnage Cup, Tier 5
Features:
Updated Carnage Cup for Tier 5
New Crusader: Morrigan the Furious (slot 33)
New Skin: Undying skin for Cindy the Cheer-Orc
5 New Objectives:

Recruit Morrigan the Furious: Escort a little mischief maker to area 400.
Carnage for the Cup: Trample the crowd to reach area 450.
Halftime Commercial Break: Reach area 475 under tighter constraints.
The Dirty Downs: Reach area 500 on non-regulation turf.
Scrimmage: Reach area 525 with the coach's special rules.
Changes:
Added two new Crusader-filtering options to the crafting screen:

Crusaders who have any piece of Epic gear.
Crusaders who have any Legendary gear that has been leveled up.

Revamped Cindy the Cheer-Orc:

Increased the base amount of Top of the Pyramid from 25% to 50%.
Increased the bonus of Cheer! from 20% to 40%.
High Stamina now stacks over the entire reset, instead of resetting each area.
Her Legendary ribbon effect now affects elves in addition to orcs.
Her Legendary uniform now buffs Top of the Pyramid, instead of buffing gold for each orc.

Revamped Karl the Kicker:

Showoff now increases gold each time Punt It kills a monster, instead of buffing gold when Cindy is in the formation.
Punt It is now available before Split the Uprights.
Split the Uprights now adds splash damage to Punt It instead of splitting your DPS between the front and back monster.
Play of the Game now adds additional projectiles to Punt It instead of buffing Split the Uprights.
His Legendary trophy now counts elves in addition to orcs.
His Legendary helmet now buffs the splash damage of Punt It instead of buffing global DPS for each elf.

Arenvarr's The Hoard Grows upgrade no longer has a max level.
Fixes:
Slightly improved performance when recalculating effects.
Fixed the effect bubble tooltip for Arenvarr's Shared Curse not describing its effect
Friday 6 December 2019
Version: v0.222
Cinnamon and Cloves Weekend Buff
Features:
Added the Cinnamon and Cloves weekend buff, starting at noon PST.
Changes:
When mimicking Mycall's "Static Spores", Mindy's version now scales based on the strength of Mimic, as with most other chance-based abilities.
The escape key and spacebar now perform the same function (closing windows and dismissing notifications.)
Added a number of weekend buff chests and GEs to the pools for flash sales and the challenge shop.
Wednesday 11 December 2019
Version: v0.223
Changing Seasons
Features:
The crafting screen now provides options for which Crusaders to list
Crusaders in the crafting screen now display a marker when they have a recipe for a better item.
The number of saved formation slots has been increased to 5.
Each challenge objective now has its own saved formations.
Objectives with altered formations now have their own saved formations, which are cleared when changing objectives.
Campaigns in the objective selection screen now show their formations when moused over.
Added an entry to the guidebook for saved formations.
Added two Taskmasters: Gooby and Old Lefty.

Purchased with Rubies and Challenge Tokens respectively.

Added new skins for Mindy, Baenarall, and Eiralon.

Purchased from the skin shop.

Added "Crusaders Owned" and "Recipes Owned" to the stats window.
Updated the bonus Golden Epic for purchasing regular Jeweled Chests.
Changes:
Storm Rider and Magnify can now be activated during area transitions (including by taskmasters.)
More Formation Ability tooltips can be shown when mousing over Crusaders.
Increased the time limit for Sprint Mode from 6 to 10 seconds.
Clarified how Sprint Mode works.
Changed Nargulg's abilities.
Reduced the cost scaling of the 10K Training and Montage Training talents.
Revamped the Phase Skip talent.
Added Chiyome's and Trixie's skins to the skin shop.
Added the False Idol Taskmaster to the ruby shop.
Topped all players' free respecs back up to 3
Wednesday 18 December 2019
Version: v0.224
The Nate Before Christmas, Tier 5
Features:
Updated The Nate Before Christmas for Tier 5
New Crusader: Kris, the Enraged Elemental (slot 29)
5 New Objectives:

Recruit Kris, the Enraged Elemental: Plant a festive formation and head to area 400.
Home Alone: Reach area 450 all by your lonesome.
O Tannenbaum: Enjoy a traipse through the bowers to area 475.
It's Elemental: See you in area 500, hotshots.
Koliada: Reach area 525 with cajoling carolers.

New Skin: Snow Wight skin for Frosty
Added recruitment and gear missions for Carmen and Petunia, and The Evanescent
Changes:
Objectives that increase the rate of monster spawns now reduce the delay between monsters, to compensate.
Changed Robo-Rudolph's name to RoboRudolph to match the other "robo" Crusaders
Fixes:
Fixed a number of formation abilities showing their original owner's name when copied by Mindy.
Fixed the Sprint Mode buff icon showing the wrong time limit.
Fixed multi-open buttons in the chest screen not always updating correctly after opening chests
Thursday 19 December 2019
Version: v0.225
The Update After Nate Before Christmas
Changes:
Added the support tag to Kris.
Updated Kris' recruitment objective so Crusaders granted the flora tag by an ability can deal DPS.
Effects that increase max hp no longer increase current hp when the formation is under attack.
Changed The Holy Guardian's shortened name from Guardian to Holy Guardian.
Fixes:
Fixed Gooby and Old Lefty showing slightly large and pixelated in the taskmaster roster.
Fixed health-increasing effects from legendary equipment not applying.
Fixed Gryphon's and Red's abilities not applying health-increasing effects added by loot.
Chest Survey/Statistics
Here are two forums for the chests, please share and the more participants the more accurate we'll have it.
For the Chests/Floor - PLEASE DO NOT PARTICIPATE IF ON YOUR FIRST RUN!!!
Chests/Floors: http://goo.gl/forms/yBjEd1u7dl
Jeweled/Chests: http://goo.gl/forms/vg5uhTSdBa
Chest Rarity: http://goo.gl/forms/byyoH3mWLi
Current Data: https://docs.google.com/spreadsheets/d/1wm4n_fEoV_bifAz7XEcF5_oGno4Zy7zt49EnjaOhaA0/edit?usp=sharing
Latest activity
New element added to the Crusader information boxes—a little indicator at the top left to show the gender of a crusader at a glance: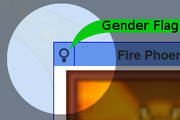 The hover tip also indicates human or non-human, in case it isn't clear from the characterisation. Also shows a

image to indicate crusaders influenced by the Royal Grail ability.
Latest addition is the

image to indicate animal crusaders—as opposed to humans, robots, orcs, etc. For an example of all three flags in use at once, check out Prince Sal, the Merman.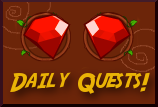 Community content is available under
CC-BY-SA
unless otherwise noted.