Oh look, it's the tutorial forest! Hello, Barkley! Down boy, stop that!
Level 101
Objective 
Collect 12 rosemary stems for Chef Lidia's stew
Opponents
Whilst they look the same, they are higher level creatures now, so will be harder to battle. 
Now you're back to where we started on the First Map page
Level 102
Objective 
Grandma Bernadette needs 16 berries for her pies
Opponents
Etc, etc! Keep on going! 
First Reset - New Campaign Objective
OK - now most all of you probably did your first reset long before hitting level 100. But if you're like me, here you are! 
When you buy the upgrade of Nate's that lets you reset, you'll get a screen asking are you SURE, and letting you know that you'll start from the very beginning, and what items you get to keep - and gives you the option to cancel if you're not ready. If you are, it then shows you the shiny, red, candy-like button that Nate found, and you have to click to reset. There's really no way to do it by accident!  
Eventually you'll get to choose an objective for your next campaign, but for now, only the next one is unlocked, "Reset after lvl 100".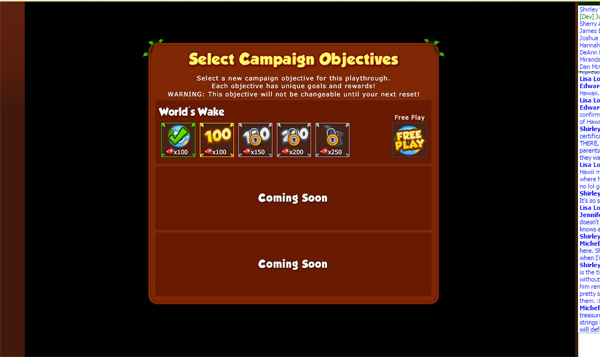 Now you're ready to go! Remember, you're at the beginning, and with only the Bushwhacker, you'll have to click again, after probably not clicking for a long while. 
Now the Campaign Objective image at the top of the screen changes, obviously. 

Now - on to the next! And the next, and the next....
List of level walkthroughs
Select level range